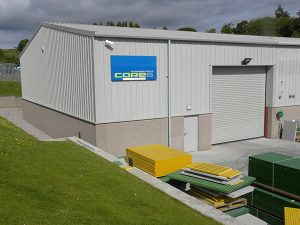 Core-6 Composites, the UK's largest stockist of Composite Grating and Access products will be showcasing their products at the up and coming 'Composites in Rail' showcase on 12th May at the University of Manchester.
Organised by Composites UK, the showcase focuses on how the rail industry is embracing fibre-reinforced polymer composites which are used in both infrastructure and rolling stock applications.
Composite bridge structures are favoured for their lightweight and durable properties and can be pre-fabricated off-site. Disruption to service is minimal as replacements of foot or road bridges over the network can be installed overnight. Other infrastructure applications include track-beds gantries, lineside furniture and platform services.
Core-6 Composites have been supplying and fabricating FRP grating structures since 2007 to various industry sectors. Specialising in offering pre-fabricated, made-to-measure packages, Core-6 Composites can consult, design and fabricate any FRP structure to exact requirements within a short timescale.
Core-6 Composites pride ourselves on our professionalism and technical product knowledge. Our highly skilled staff can offer advice and support throughout your repair or maintenance project.
Visit our stand at 'Composites in Rail' or call our head office today on 0800 876 666 8 to arrange a visit from one of our sales representatives covering the UK.
Alternatively email sales@core-6.co.uk or visit our website www.core-6.co.uk