With an aging rail infrastructure GRP has become one of the main materials driving the growth and regeneration of the rail network. The industry continues to successfully use GRP for access gratings, ladders, hand rail and structures. The clear benefits that GRP offers in these applications include, cost-effective solutions, long maintenance free service, safety, high-strength structural properties and fire integrity.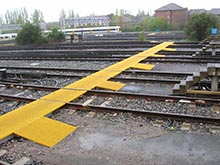 As with all industries the rail sector has witnessed a dramatic increase in metal theft in recent years. Not only is this a drain on resources, more importantly it causes a safety risk as the products that are stolen, predominately metallic floor coverings, leave a 'risk of injury' hazard. Composites are visually appealing and they do not have any resale value once installed which means they are rarely subject to theft.
Due to the ongoing investment to update the UK rail infrastructure GRP solutions are growing rapidly, not just because of the standard benefits GRP offers but also due to the non-conductive characteristics of this material.
Our proven composite material solutions & engineering services have enabled CORE-6 Composites to deliver on-time cost-effective solutions to this demanding sector.
Our offering to this sector:
GRP handrail and fencing
Tactile's and DDA approved products
DDA approved tread cover plates
GRP grating
Decking strips
Gritted plates
Design and fabrication services
Locations where composite are used:
Platform systems
Viaduct walkways and access
Access systems
Signal box access platforms
Footbridges
Modular staging
Security fencing and barriers
Lighting and signalling solutions
Drivers walkways
Maintenance platforms
Bridge parapets
Cable management systems
Gallery
Case Studies