Construction covers a wide variety of industry sectors.  From large infrastructure to small one-off projects in commercial, industrial, private and general construction.  Health & Safety controls matter and the key driver across every sector is to reduce risks and provide a better, safer working environment.
Core-6 offer many advantages in the construction sector by providing strong, lightweight GRP composite solutions. GRP grating has one of the highest degrees of slip-resistance measured for walking surfaces. Making composites the material of choice for industrial walkways and mezzanine flooring, reducing the risk of slips and trips.
On multi-storey buildings where utilities travel between floors, GRP grating void covers provide a safe temporary or permanent solution for essential riser services. The product is not only lightweight and easy to fabricate, it can be re-shaped on site with simple hand tools reducing installation time and labour costs.
Introducing GRP to construction has enabled the industry to develop structural alternatives to steel. Our GRP range has grown and evolved over time to include beam, channel, angle, box section, kick plate, ladder rung, handrail tube and handrail fittings in addition to our comprehensive grating stock.
Warm to the touch, lightweight, corrosion resistant and non-conductive GRP offers key benefits to the construction industry
Our offering to this sector: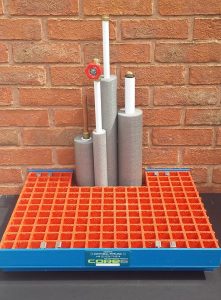 Anti-slip composite grating
Tread cover plates, nosing and gritted sheets
Access ladders
Handrail systems
Trench liners
Design and fabrication services
Locations where composite are used:
Building utility risers
Rooftop access walkways
Handrail systems
Access stairways, stepovers & platforms
Trench, drain & sump covers
Temporary maintenance systems
Gallery
Case Studies